The ALGE Greyhound Timing system is available for either competition or training tracks:
The Competition Track
This version is designed around a competition track with fully integrated ALGE OPTIc Photofinish, professional split timing and large format LED Scoreboard capable of handling all your timing and display requirements for race meetings as well as trail sessions.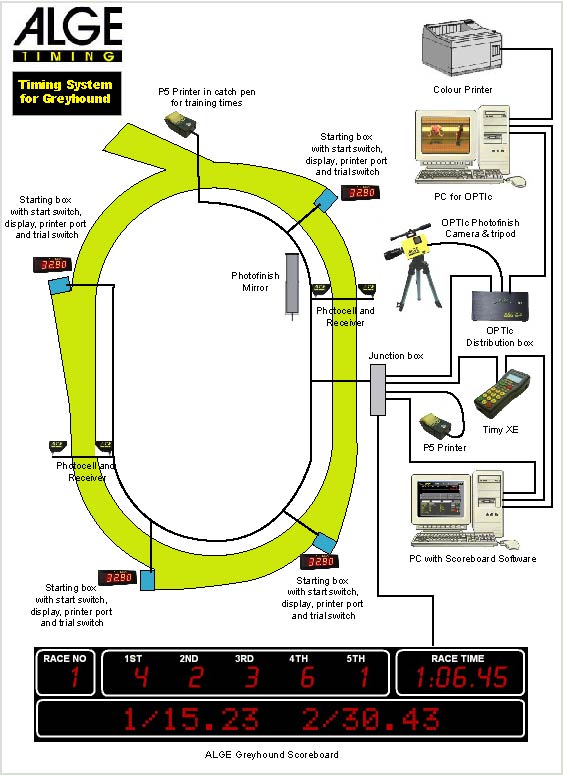 Click on one of the components in the diagram above for more information
Split Timing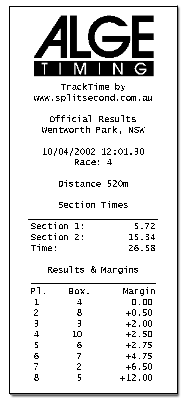 The ALGE Timy is a highly accurate professional sports timing computer recording times to 1/1000th of a second. The timer operates in time of day mode and records impulses from each of the starting boxes and photocells around the track.
The photocells are "armed" once the rabbit passes so as to record the first dog in the pack, then immediately disarmed so as to disregard any trailing dogs.

The timing information is passed on to the scoreboard software which processes the data and displays the split times on onto a large format super bright LED scoreboard located inside the track near the finish line. Race times and splits are also shown on 57mm ALGE D-Line displays above each starting box for the trainers. The scoreboard shows running race times up to 9:59.99 as well as all sections as they occur.
At the end of each race or training session, results can be printed using an ALGE Printer P5 in the results room and (for training sessions) in the trainers catch area or at each starting box. (Example Race results from an ALGE P5 printer shown right)
Photofinish
The ALGE OPTIc Photo finish is an electronic photo finish timing system with integrated evaluation software. It is completely compatible will all ALGE timing accessories. The OPTIc uses the latest CCD and Firewire technology and is capable of recording images up to 1/2000th of a second and 1356 lines resolution which is one of the highest resolution on the market. Images are immediately stored to the hard drive of the computer making pictures available for evaluation and distribution faster than other systems.
Images are evaluated by dragging a line on the computer to the nose of each dog.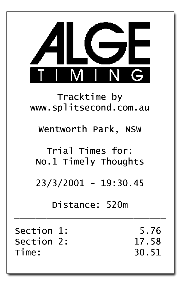 Pictures can be printed with all timing information and distributed over a network if required. All timing and margin information is passed to the TrackTime software for display to the scoreboards without any manual entry and printed using an ALGE Printer P5 (see printout above)
The Training Track
This version is a basically a scaled down version of the competition track system without the photofinish, starting box displays and large scoreboard. Though you can add whatever components you needs. It is priced to suit tracks on a budget. It can be upgraded at a later date to the larger system.
Trial times for "Secret Training Sessions" can be printed directly to the trainer's catch area. Display of times to the GAZ4 or D-Line display board can be suppressed. (See trainer's printout above right)
Click on one of the components in the diagram above for more information