ALGE OPTIc Photo finish is a computerized color photofinish system with integrated evaluation software using the latest FireWire technology.
Mass finish sports like thoroughbred (horse) racing, harness racing (pacing, trotting), greyhound racing, triathlon, rowing, outrigger canoe, kayak, athletics (track and field), cross country skiing, skier cross, snowboard cross, motor sport, road and track cycling etc. can all benefit from this type of technology.
There can be no dispute over the results as photofinish cameras provide a permanent visual record of the finish line and is the most accurate method of determining a mass finish currently available. With resolution up to 1/2000th of a second, photofinish cameras have a huge advantage over transponder or human judging which are just not capable of accurately determining close finishes nor can they produce a auditable record for scrutiny.
The Color Line Scan Camera scans every movement at the finish line in true color (24 bit, 16.8 million colors - highest on the market) and stores the data immediately on the hard disk of the computer. The photo finish picture can be shown at any time on your PC monitor, shared across a network, displayed on TV, or printed. The OPTIc Photofinish can even be used on a laptop.
With timing up to 2000 lines per second and up to 1356 vertical pixels, the picture quality is one of the highest resolution photo finish systems currently available. This higher resolution means you can install your photofinish camera closer to the track and still cover the entire course without the need for special lenses.
The ALGE OPTIc Photofinish comes standard with a 12.5 - 75mm manual zoom lens which is normally sufficient for most sports. Other photofinish brands use expensive Nikon lenses with fixed field lengths required for each location.
If you are currently renting your photo finish equipment for your thoroughbred, harness or greyhound club through the "The House of Brooks" or other rental provider, why not call us for a quote. You may be pleasantly surprised by the price. All our customers have been! Why rent when you can generally buy your own camera in less than the standard contract term with no further payments. Our modern range of Horse/Harness and Greyhound scoreboards (a.k.a. semaphore boards) have also been very well received through-out the Australian racing industry. Our price, product quality and high level of after sales service is unbeatable. You wont be disappointed.
Download Photofinish Colour Brochure in .pdf form
Download Photo Finish User Manual in .pdf form
Download Photo Finish Installation Guide in .pdf form
(Tip: Right click link and "Save Target As..." to your computer)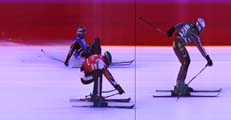 Click on one of the photo finish images above to view a larger version
Best picture quality in all light conditions through modern line scan sensor

Highest timing precision through Temperature Compensated Crystal Oscillator TCXO

Easy handling with Windows 2000, Windows NT, Windows ME or Windows 98

Unlimited recording time with suitable PC hardware

High resolution, 2000 lines per second with up to 1356 pixel

Evaluation is possible even before all competitors reach the finish line

You can evaluate a finished race while another race is started

It is possible to start different races simultaneously

The time of each evaluated competitor is recorded automatically into the result list

Possibility to use a Notebook (with integrated IEEE 1394A-OHCI compatible interface)

Optional photo finish weather cover for protection against rain or snow

Optional motor zoom controlled through evaluation software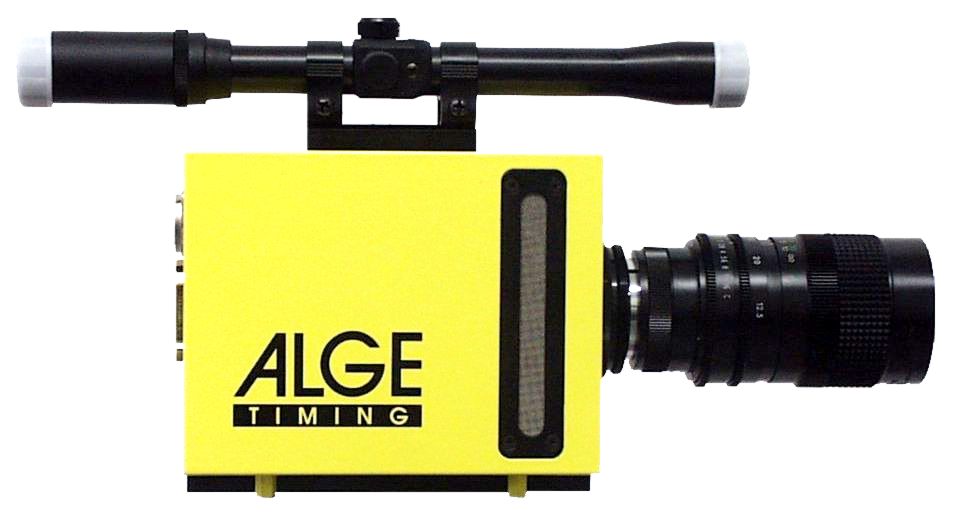 minimum PC requirements:
Pentium III, Athlon or faster

128 MB RAM

Graphic Card X-VGA (min. 8 MB RAM)

Monitor with min. 1024 x 768 resolution and true color

Hard disk with min. 20 GB (greater speed increases recording time)

full IEEE 1394A-OHCI compatible interface, 400 Mbps

Windows 2000, Windows ME, or Windows 98
Pentium III 800 or Athlon 800

256 MB RAM

Graphic Card X-VGA (32 MB RAM)

Monitor with 1600 x 1200 resolution and true color

two hard disks with min. 30 GB and RAID

full IEEE 1394A-OHCI compatible interface, 400 Mbps

Windows 2000
no additional costs for film or film development

simple operation (PC with Windows)

unlimited recording time (only limited by hard disk space)

adjustable recording speed between 100 and 2000 lines per second (able to record slow and fast sports)

adjustable timing precision (1/10 sec, 1/100 sec, 1/1000 sec, or 1/10,000 sec)

evaluation is possible before all competitors have reached the finish line

more than one race can be timed simultaneously

during the evaluation of the photofinish image you can start another race

automatic, electronic brightness correction, if you have changes of the light condition during the race

photofinish images are stored immediately to disk, so are available to share across network

motor zoom function

integrated evaluation software, providing direct transmission of exact times into the result list

evaluation and bib entry by lane, start number or manual control

prints start list, ranking list, and evaluated picture

photo finish prints can be sold or made into T shirts

flexible headers for the result list

headset connection for communication with the starter

automatic recording through photo electric cell connection

up to 100m (325 ft) cable length between PC and camera (the camera's power supply comes through the same cable)

connection for a display board

direct connection to custom evaluation software is possible

RS232 interface to connect a graphic generator for video graphics

remote control through the OPTIc photo finish software for the ALGE anemometer Windspeed WS1 or WS2 for track and field