Split Second Timing, Australia is pleased to announce a timing system for triathlon and duathlon events when economy, accuracy and ease of use are high priorities.
The system, allows accurate timing of the start, swim, cycle and run to 1000th/sec. Results can be generated within minutes of the completion of the race.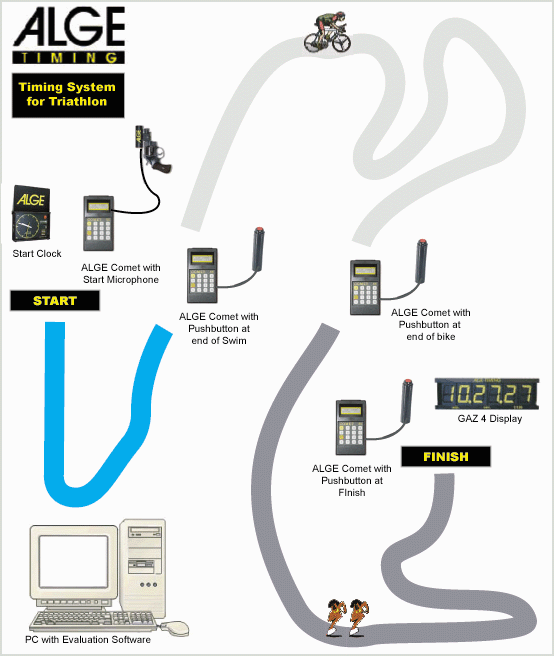 A typical scenario
Groups of competitors start in waves at various times. An ALGE Start clock displays the official time at the start, giving competitors time to prepare and synchronize their own watches. A Starting Pistol or press of a button is used to start each category and the exact time and category of each start is recorded by an ALGE Comet.
Competitors complete the swim, bike and run legs and their split time are recorded as they pass each timing point. As each competitor passes, their time is recorded by an operator pressing a pushbutton connected to an ALGE Comet. The competitor drops a tag containing the competitor number, which is keyed into the keypad of the ALGE Comet in the order they pass.
Multiple competitors can be recorded as quick as the operator can push the button, the ALGE Comet stores each time of day (to 1000th/sec accuracy) in short term memory until the competitor's number is entered, when it is, the time and number are then stored in long term memory and immediately transmitted out the comet's serial port to your results computer.
The ALGE Comet can be connected to your results computer, via cable, radio link or used in standalone mode, with results being downloaded to the computer after the event has completed.
Triathlon Terminal Software
Triathlon Terminal software has been created to allow you to download each ALGE Comet and assign the times to a specific control point, calculate the ranks and output results to paper, text file and html for your web site after the event.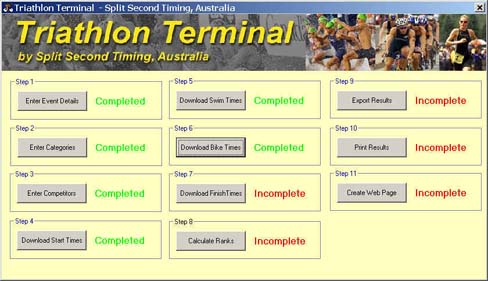 The software is designed in a step-by-step basis, guiding the user through each required stage. Event details, categories with corresponding bib numbers and competitors are entered prior to the event.
After all times are collected from each timing point, the memory of each ALGE Comet are downloaded, ranks calculated and results either printed and/or exported to text file or HTML for your web site. Data is stored in an MS Access format database so it is completely accessible (pardon the pun) from other custom software you may wish to create.
Results, sorted by category, contain the bib number, name, overall rank, overall time, individual leg times and ranks for swim, bike and run for each competitor.
If live timing is more what you are looking for, then the standalone ALGE Comets can be linked directly to your own results software and all times and bib numbers can be recorded in real time. This would allow for real time results, internet feeds, announcer's screens, Live TV graphics and display of race times on display boards.
The ALGE Comet also caters for bib number input from scanners such as bar code scanners or any other system capable of providing a serial string.
Your results software can also be used to drive a GAZ4 Display showing the running race time or even the adjusted time based on the current category/competitor finishing.
Triathlon Terminal software is created in Australia so customizing to your specific needs is always possible based on a hourly rate. Our custom software service can create a full live timing system, customized to your needs and budget. Contact us for more information.