A comprehensive timing and photofinish system for harness racing or trotting including section timing, OPTIc colour photo finish and large format super bright LED Scoreboard.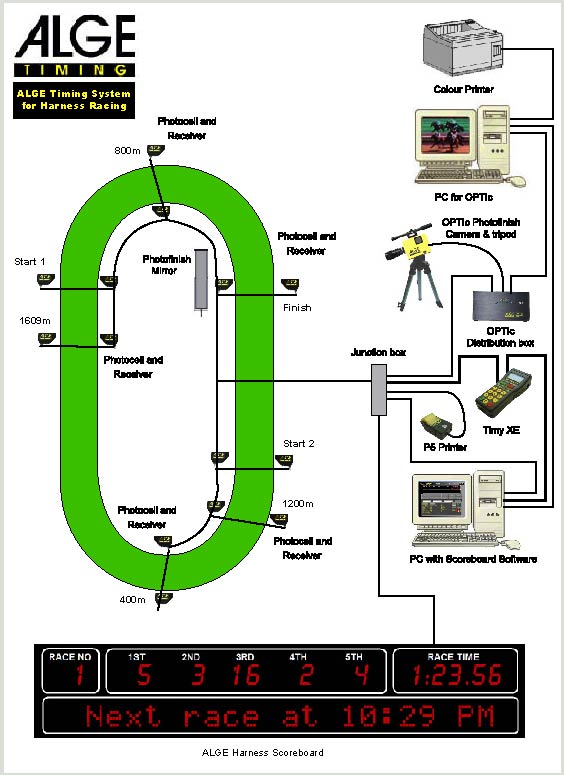 Click on one of the components in the diagram above for more information
The race is started either standing or via mobile start interupting the beam of a photocell. The ALGE SB software will automatically compensate for the start vehicle. Photocells on each of the 1/4 mile points (approx 800m) are connected to a highly acurate ALGE Timy sports timing computer which provides timing impulses up to 1/10,000th of a second to the PC software. The Super bright LED scoreboard displays the running time of the race as well as the lead time or first section time depending on the setup of your track.
As the race progresses sectional times are displayed and freeze for 10 seconds after each section is completed. At the end of the race, the mile rate is automatically calculated and the lead time, all sectional times, last 1/2 mile and mile rate are sequentially displayed.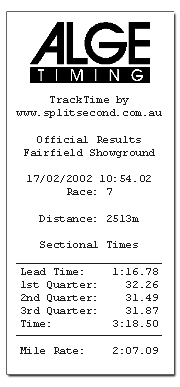 Photo finish
The ALGE OPTIc photofinish system provides a high quality time-coded image that records all movement at the finish line, capable of recording times to the 1/2000th of a second even in very low light conditions. Images can be immediately viewed and processed on screen, then printed, displayed on TV or transmitted via your intranet or the internet.
Placing and margin information from the ALGE Photofinish can be automatically transmitted to the scoreboard without the need for manual entry.
Results printer
The ALGE Printer P5 is used to easily output timing information. The sectional and finish times as well as the "Mile Rate" calculation, places and margins can be printed within seconds as a hard copy record of the race or practice session. A sample of the printer tape is displayed to the right.