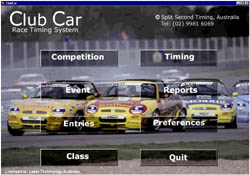 The ClubCar timing system provides an affordable, easy to use, accurate method for timing club car racing days where multiple cars are driving on a track at one time.
The ClubCar system tracks best lap information for each car, group and session.
ClubCar addresses the problems in older car racing systems by using a 10,000th/sec accurate external time base, finish line photocell and intuitive Windows based software able to track multiple cars crossing the finish at the same time. Lap times and rank are immediately displayed on electronic display boards to spectators.
ClubCar can also be used for club racing, rally, hill climb and time trials.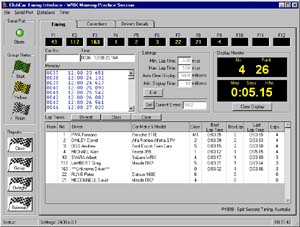 Your car club has a track day with around 50 drivers assigned to various car/driver classes. The day is broken up into a morning practice and afternoon timed sessions. A group of around 12 cars are sent out onto the track at one time completing around 5 laps before returning to the pits, racing the clock. They leave the pits at around 30 second intervals.
As a driver cross the start/finish line for the first time their number is recorded and an individual clock starts for their car. As they cross the finish line following subsequent laps, their lap time and rank (compared to other club members) is displayed to the crowd on a pair of GAZ4 display boards near the finish line. A second set of GAZ4 display boards can be located near the end of the finish straight for driver's information. A commentator announces the results to keep members and spectators informed throughout the day.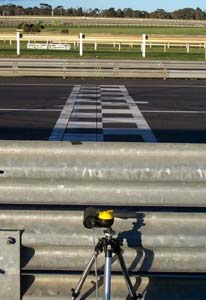 Cars sometimes stay in the same order, though overtaking is common. Cars sometimes retire before the end of a group and multiple cars can cross the finish line at the same time. At the end of each group a report is printed and posted for the driver's information. At the end of each session, Overall and class results are also posted.
At the end of the day, final results are printed, results published on the club web site in HTML format and awards are presented. Result lists can be emailed to each member or printed and copied.