System Overview:
Mountain bike downhill racing requires the accurate recording of both start and finish times for each rider. It is normal to have more than one competitor on course at any time. Sometimes a rider will overtake another and a number of competitors can cross the finish at the same time. Riders leave the start at set intervals, which can be adjusted (shortened/lengthened) during the course of the race. Spectators need to be informed of times and ranking during the race.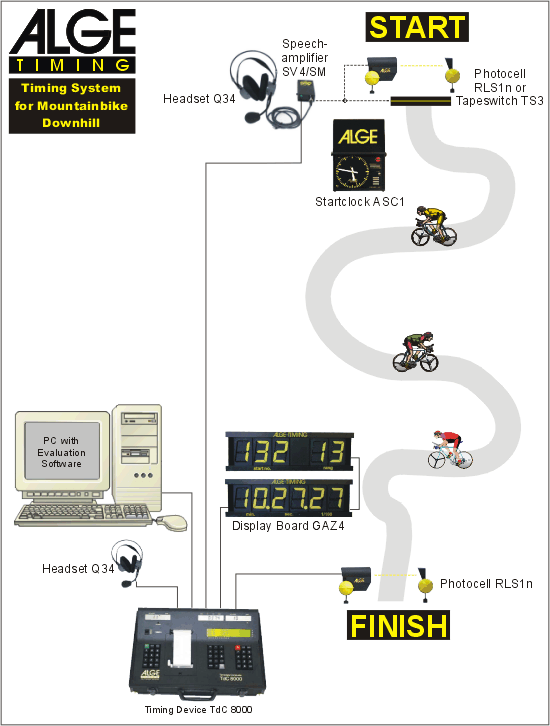 Click on one of the components in the diagram above for more information
System description:
The ALGE Mountain bike downhill timing system consists of a TdC 8000 Timedata Computer able to record up to 10,000 competitors on course at any time. This device caters for all your needs including multiple competitors on course, simultaneous starts and finishes, overtaking competitors and multiple riders finishing at the same time,
The start is connected via a single pair wire which is used to transmit start impulses and full duplex communication between the starter and TdC 8000 operator using a Headset Q34 and Speech Amplifier SV4 at the start and a Headset Q34 plugged into the TdC 8000 at the finish. Start impulse come from a device such as a photocell, start gate or tapeswitch.
Start intervals are controlled using an ALGE Startclock ASC1 or ALGE Start Beep. The ALGE Startclock ASC1 is set in front of the start line on a Manfrotto Tripod. The analogue clock face, red/green start indicators and audible tones give riders a clear indication of when to start. The start interval can be adjusted even during the race as required using an optional remote control box and cable.
The ALGE Start Beep can also be used giving an audible start sequence at a variety of preset or user defined intervals.
A photocell is set up on the finish line to record each rider as they cross. If the TdC 8000 operator cannot see the riders coming into the finish, a spotter can be used and linked using a single pair wire and an additional Headset Q34 and Speech Amplifier SV4.
With a pair of GAZ 4 displays, the rider number and running time for each competitor can be displayed as the approach the finish line, as they cross the finish, the run time will be displayed along with rider number and rank.
Finish time of each rider can be sent via one of the TdC 8000's RS-232 serial ports to a PC for creation of results.