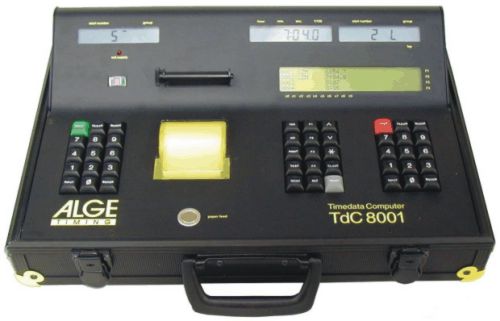 The Timedata Computer TdC 8001 is one of the most rugged and weather-resistant printing timers ever produced.
The TdC 8001 is made for those days when you're stuck in a tent timing a race in the middle of a blizzard, wondering why you didn't stay home! The super accurate TCXO quartz crystal, combined with weatherproof circuitry allows full operation from -25C to +50C (-10F to +122F). Specially designed LCD displays for running time and data editing are visible in all lighting conditions, and power-on instantly. The professional-grade attaché-case styling, with built-in rechargeable battery pack, ensures total durability and flexibility.
ALGE's leadership in the field of sports electronics is well established. The TdC 8001 is the result of constant feedback from all levels of sport. Born of the original TdC 4000 and improved on the TdC 8000, the 8001 is a most worthy successor.
Download Colour Brochure in .pdf form
Download User Manual in .pdf form
(Tip: Right click link and "Save Target As..." to your computer)
Intuitive, menu-driven design

10 Seperate timing channels for connection of start, finish and 8 intermediate times for ski racing or mountain bike etc, or for 10 lane courses such as athletics or swimming etc.

Clean, Start-to-Finish control layout allows for intuitive visual reference of race status

Built-in printer & buffer system allows for uninterrupted timing while you print results; also prevents loss of data when paper-change is necessary

Built-in software for all types of popular timed sports. Programs include: split timing, lap timing, dual slalom, speed measurement (km/h, mph, m/s), NASTAR handicap calculation, automatic timing mode, equestrian etc.

Start numbers from 1 to 9999

Supports four simultaneous races with the same number range, including multiple heats per race

Memory capacity allows for storage of up to 18,000 splits

Results can be produced for up to 40 different age and sex classes competing together

Temperature-compensated quartz crystal is referenced for accuracy every 10,000th of a second

Expandable inputs allow for the connection of up to ten sensor devices (photocells, etc)

Accepts non-Alge photocells, start gates, etc

2 x RS-232 serial ports allow output of data to a PC (or other device) & scoreboard, or input of data from a compatible device such as an Alge Comet or similar data-storing timer

RS-232 ports feature user-configurable protocols, baud rates, etc

RS-485 interface for networking with up to 30 external devices

Real-time clock (automatic time of day)

Ranking and results for categories can be displayed, printed, and edited

Calculation of race points for alpine and cross-country skiing

Output to spectator display boards

Low power consumption (runs a full day on a single charge)

New programs for the TdC-8001 are released and/or updated frequently

Custom programs available