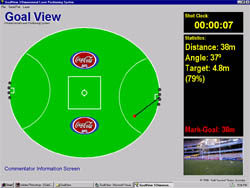 GoalView is a fast, accurate and affordable system for real-time tracking of player or ball position for virtually any sport.
The position of players and or any other object from the size of a golf ball can be accurately determined relative to any other object such as the field, goals, tee or pin in less than a second without penetrating the field of play.
Graphical and statistical data can be displayed on computer screen or as a video signal for TV commentators, transmitted as serial data to Frost, Chyron or other CG's or as a keyed broadcast quality graphic using our portable TV Graphic system.
The Player's eye view is also immediately and graphically available to enable commentators to discuss the ease or difficulty of the next play.
The data generated by the GoalView system can be stored in a database to allow the playback of goal attempts of each team throughout the quarter, half or game.
Recording and display of an entire play is also possible.
GoalView was first introduced on Channel Sevens coverage of the AFL Grand final series in the season 2000.