Split Second Timing has been the official provider of computer based Results and Timing services to the Freestyle FIS World Cup since 1991. The Freestyle FIS World Cup tour runs from November to April each year and has visited countries such as Australia, Austria, Canada, Finland, France, Germany, Italy, Japan, Korea, Norway, Sweden, Switzerland and the USA.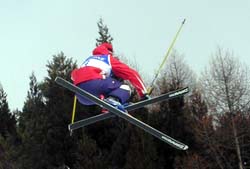 Freestyle Skiing is a timed and judged sport, utilizing a similar timing system to alpine skiing for moguls, difference timing for dual moguls, speed trap for aerials and keypad judges entry systems for all events. Start lists are produced by a random computer draw for aerials, moguls and new school events. Dual Moguls is a head-to-head sport similar to tennis with the winner of a match progressing to the next round.
Spectators are kept informed via large matrix scoreboards and running commentary from a on-hill venue announcer. Venue announcers are kept up to date using our networked, touch screen capable, up-to-the-minute commentator system including real-time results and competitor biography information. We maintain a comprehensive database with competitor biographical information and results of all World Cup, World Championship, Olympic competition since 1980.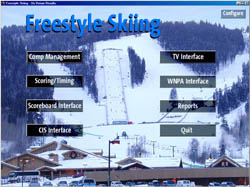 Many events are broadcast live on national and international, network, cable and satellite television, and Split Second Timing provides the live graphics feed of event title, course details, start lists, competitor staging, running time, speed, intermediate results, judges scores, rankings, medallist and world standing information.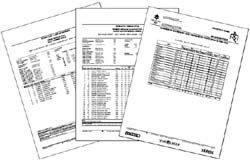 Around 10,000 sheets of paper are consumed at a typical world cup with reports such as entry lists, ranking, roll call, start lists, head-to-head protocol, judges check lists, intermediate results, qualification results, final results, tie-break protocol, medallist reports, world cup standings, nations cup, FIS points list, competitor biographies and statistics.
Our typical service includes: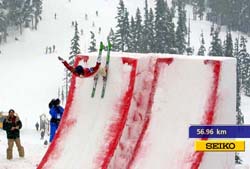 Entry list of competitors and officials sorted by nation

FIS Points lists (World rankings)

Pre-draw check lists

Computer generated random draw start lists

Event graphics and stationary

Keypad entry system for judges with quality control and judges evaluation

Electronic main, backup and hand timing

Quality control check lists for judges scores

Real-time data feed to large matrix electronic scoreboards

Real-time LIVE TV graphics

Direct data feed to network TV character generators such as chyron and aston

Qualification Result Lists

Final Start Lists

Final Results Lists

Head to head competition draw for dual moguls

Result systems for new school freestyle events such as big air, halfpipe, skier cross

World Cup, Europa Cup, Nor-Am and Australia New Zealand Cup Standings

Results can be transmitted in XML, HTML and virtually any other format required

Results systems using both Macintosh and PC computers